Now that you have a plan for possible sources to use, let's look at how to find them. If needed, review the "Where can I find it?" information on the Plan Possible Sources page. There are multiple places to find sources, and locating items in each requires a few special skills.
On Your Library Shelf: Physical
Online catalog--search by author, title, subject, or keyword, then find out what section of the library the items are located in by the

call number

.
Most school and public libraries use the

Dewey Decimal

classification system, and most university libraries use the

Library of Congress

system.
On Your Library Shelf: Virtual
eBooks
eBooks may be found in your library's collection, on the Internet, or in databases such as Gale eBooks. Typically, you can access a library's collection of electronic books through its online catalog or website. Check with a librarian.
Databases
Libraries give you access to databases full of quality informational text from magazines, journals, newspapers, and eBooks. Oregon students have free access to many databases. Ask your teacher or librarian for the login. Knowing how to use databases will save you time and ensure you quickly find the best information.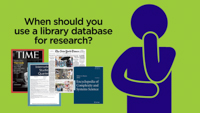 Often, a database company will use the same interface (the look and the way it works) for multiple products. For example, if you learn how to use Gale's In Context: Middle School, you will also know how to use In Context: High School, In Context: Opposing Viewpoints, and In Context: U.S. History. This is evident when you compare the resource guides for products that use the same interface, like those linked here.
There are several ways to locate information within a database. All have a search box and an advanced search option. Sometimes users can also browse by topic.
Tip: Understanding the differences between keyword and subject searches will help you determine which option to use. If you first need a refresher about keywords and search strings, review the Plan Your Search Strategy sub-step.
Once you find an article in a database, you usually have many of the same options regardless of company or interface. This includes the ability to save to a temporary folder, email, download, or print the article. Often you can listen to the article and even translate it into another language. Another common tool is the bookmark, or a URL that you can copy and use to get back to that article later. The features may have different names and be located in different places on the page.
Companies that create databases also create tutorials and tip sheets or guides so that people can use their products more proficiently.
On the Internet
No matter if you use Google or another search engine, find out how to best use it by taking a look at its search help, or try its advanced search to narrow your results further. For example, take a look at Google Search Help and Google Advanced Search, located under settings, often a gear wheel , on any search results page.
Tip: Watch the Advanced Searching: Limiters & Subject Searching tutorial to learn how to go beyond basic searching to find just what you need in databases and search engines.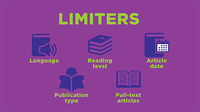 Tip: When you're on the Internet, be aware of online safety. To learn more, take a look at these eBooks.  
In Museums and Archives
Use a search engine to find a museum or archive that is relevant to your topic.

Many museums and archives have websites that allow you to explore them virtually.


Visit in person to see artifacts, primary documents, and more.
Find an Expert
For tips on locating an expert, review the information on the Interviews page in the Plan Possible Sources section of OSLIS.
Next => Once you have found your sources, it is time to evaluate them.
---