If you are not writing a research paper, here are some other formats your project could take:
Be sure to get your teacher's approval before beginning your project.
It is important to know your audience when planning your presentation.
You may find rubrics/scoring guides helpful in creating your project.
Tip: Be certain you have permission to use other people's work in your presentation. Take a look at the eBook, Shared Creations: Making Use of Creative Commons, to learn more.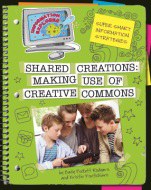 Next => Now that you have created your project's first draft, it is time to go to the next step of the OSLIS research process: Present.
---