Define Your Project Parameters
Before you begin your research, be sure you understand your assignment.
Read and re-read your assignment!  Ask your teacher any questions you may have.
Make sure you know:
How much class time will be provided?
What format can it be in? Are there choices (speech, video, diorama, report, etc.)?
What style does it need to follow?
How long does my assignment need to be?
Has the topic been assigned to me? Or, what topic may I choose? (Be sure to get your teacher's approval.)
When is my assignment due?
What aspects of the topic must be covered in my project?
How many sources do I need? Are there specific sources required?

Check due dates for specific parts of your assignment, such as:
Outline
Resource list or citations
Notes
Rough draft
Final draft or project presentation
To learn more, watch this Deciphering Your Research Assignment video.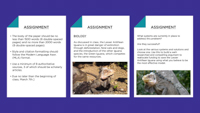 Activity:
List tasks and create your schedule. 
Next => Now that you have defined your project parameters, it is time to define your topic.